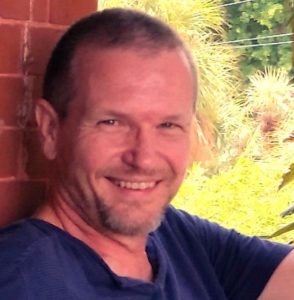 My story?
Well it started back in the Cold War when I built my first computer.  Ok, I won't take us back that far. Instead let's pick up the story around 1994.  I was a Major Account Manager at Motorola, with a major Telco as my client.  Demand for high speed dial up modems had skyrocketed in the early 1990s, and Motorola was supplying the products to the biggest buyers.  No buyer was bigger than the Telco's themselves.  The Telco's of the time period were selling bundled infrastructure equipment and services to a new breed of companies called Internet Service Providers (ISPs).   I wanted to learn more about ISPs so I could understand their buying needs over the next 24 months. By looking more closely at the Internet from a sales person's perspective, my eyes opened to the opportunity of a lifetime.    I was in awe of the potential this technology promised.  I wanted to do business on the Internet in some way.  I considered starting an ISP, or a Hosting Company, or become a Web Developer.  I chose the Web Development route.  My reason for selecting this route? It seemed to be more interesting work, and required less upfront capital.
In these early days of website development, there were no schools teaching anything about web development other than HTML. HTML was something you could easily learn on the fly. The real lessons to be learned were those that required reading everything written on the subject of marketing of online businesses, managing security, creating a trustworthy and reliable ecommerce solution, integrating offline databases with a website, search engine optimization, and customer relationship building. Reading and research would only take you so far, so I challenged my company to take on jobs that would force us to grow and get better.
Most clients had to be educated on what the Internet was and how it would benefit them. These were challenging but enlightening times. Some clients were entrepreneurial and had a vision of what the future would look like. These people both amazed and inspired me.
The domain experiences I gain from the ten years that followed were immense and true even today. 
I learned the value of having short and easy to remember domain names. In the early days, there were no Search Engines, and just a few Web Directories existed. Short easy-to-remember domains were the key to getting maximum traffic to your website.
I learned the importance of the domain to a brand.  I have seen the impact on a business that lost its domain, and thus brand.
I have witnessed domain names lift a website in the search engine results to the top of the results.
After leaving the website development business in 2004, I started working for a young domain name Registrar called Moniker.  I was hired for a sales position, but wore many hats back in those days.  Sales people took a fair share of support calls.   Ones understanding of a domain from a technical perspective, is greatly improved after processing DNS changes, Contact Record changes, Email or URL Forwarding records for thousands of domains per day.  Working with domains at a Registrar opens up your eyes to the relationship between the Registrar and their clients (called Registrants), and their upstream business partners called Registries.  You also get a peek behind the scenes of Registrar to Registrar relations, and an understanding of what is required to be compliant with ICANN and the Registries, vs. process and policies unique to a specific Registrar.
In the years I was at Moniker, our domains under management count went from just over 330K domains in 2004 to 2.8M my 6th and final year at Moniker.  I believe that Moniker amazing growth during this period is attributable to a number of factors, including being blessed with entrepreneurial owners, having a great sales and support team (I am proud to say I hired them), and most of all because we collectively got to know our clients. Our sales team spent considerable time in the field at trade shows getting to know every attendee possible.  We wanted to know how people were using domains and to obviously seek reasons why we should be doing business together.  Spending time with people from different industries, does illuminate where minds meet and disagree, and it provide plenty of real data points for understanding how a unique domain name is valued differently depending upon its use.
Moniker also was a leader in domain brokerage having sold the first domain for over $1M, and then later the first over $2M.  Moniker pioneered the Live Domain Auction and was very successful with it. Several millions of dollars of domains were sold through auctions while I was at Moniker.  These are exciting sales that happen in full view of everyone, but they do not represent the majority of transactions.  Most domain sales are private, at the request of either the buyer or seller.   I have seen domains sell in a price range from $50 to $9.5M.  I have personally brokered two million dollar domains sales. It is an amazing process, and at time perplexing. Amazing that some people spend millions on a domain name, while many others would look at that same domain and argue points why it is worthless.
I am an active speaker about domains, just as I had been on the subject of website development in my previous years. I have spoken on the subject at a wide variety of conferences around the world.  I hosted an online radio show called DomainMasters on Webmasterradio.FM whereby I have hosted or co-hosted over 250 episodes.  I have interviewed most of the shakers and movers within the domain industry and I have grown personally and professionally from their stories.
I still manage my own domains, and a number of my client's domain portfolios. This gives me plenty of comparative looks at the monetization options available on the market. I am also still actively developing and managing websites, social media sites, and a few newsletters. I suspect I will never be too far removed from the hands-on work of online businesses, because I enjoy it so much.
I enjoy writing and enjoy sharing what I have learned.  I believe the vast majority of people on this planet have no clue how valuable domains are or how to get the most benefit from their website.  Many people are in a predicament where with just a little more knowledge, their business would benefit greatly. I will do my part to help them. I do this because I enjoy doing it.